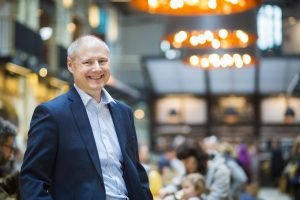 Moving from Nigeria to Winnipeg is a shock to the system, especially if you land in the Prairie city as the coldest winter in 40 years sets in. Another shock for newcomers, even those with solid work experience in their home countries, is cold-calling potential employers and not receiving a reply or an interview.
That's where a connector like Paul Biggar can help.
"What newcomers need at this stage is an understanding of who the local employers are and to get introduced to them, and that's easy for me to do," said Paul, who has more than 30 years experience working in management roles, most recently as an Assistant View President at a wealth management firm.
Paul met with his Connectees individually, getting to know them and discover their needs; he also set up weekly informal talks and Q&As with speakers from various organizations, giving Connectees and employers a chance to network and make connections.
Paul is pleased that four of his Connectees have already found jobs, including a woman who is now working as a business analyst, similar to her previous role in Nigeria.
He says that the government and other agencies do a good job in getting people settled, and the last step is getting them meaningful work in their professions.
"I think that industry is probably the group that's in the best position to help them close that gap," he said.
Sign up to be a Connector with your local Connector Program. To start a Connector Program in your community, please visit: https://connectorprogram.ca/connector-communities/