Member name: Valley Regional Enterprise Network Connector Program
Serving area: Valley and surrounding area
Address:: 448 Main Street
Kentville, NS B4N 1K8
Primary contact:
Chara Gerow
connector@valleyren.ca
Look at the Knowledge Suite for economic sector profiles, labour market updates and research and analysis of key economic issues in the Valley Region.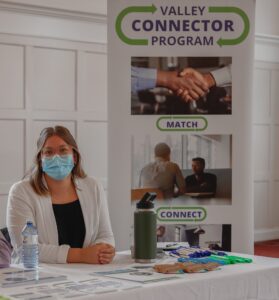 The Valley Connector Program supports newcomers and post-secondary graduates in gaining professional networking experience. The Program is a simple, formalized networking process that matches Connectors with job ready Connectees to help them connect to the local labour market.
Connectors are local business and community leaders who have a strong network. These individuals are often found to be the ones making introductions within social, cultural, professional, and economic circles.
Connectees are job-ready newcomers and local and international graduates actively looking to launch their careers in the Annapolis Valley. They are highly skilled individuals, proficient in English and/or French, legally entitled to work in Canada, and a graduate from a post-secondary program.
The Program offers Connectees the opportunity to create and grow a local professional network, which improves the likelihood of attaining meaningful employment in the region.
Connectors benefit from the Program by connecting with new, local talent, which can ease the current significant labour needs. The Connector Program contributes to diversifying the Annapolis Valley, which in turn encourages immigration and settlement in the region.
We have had the opportunity to build relationships not only with the nearly 200 people we have supported but with our community and regional partners. These connections have served to improve the Program through shared goals and vision for the future of the Annapolis Valley.
One of the many success stories through the Valley Connector Program was that of Alex M, a graduate of the Electronic Engineering Program through Nova Scotia Community College. Alex was looking for a final work placement to complete his requirements to graduate when he reached out to the Valley Connector Program as a tool to grow his professional network. Through the Program, he was matched with Doug, the owner of a local Solar Electronics business. Following their first meeting, Doug offered Alex a work placement position, which turned into a permanent position. Alex has since been promoted within the business and is now a Connector with the Program!
Events and workshops are hosted throughout the year. Most recently we've been working with our local Physician Community Navigator and YREACH (YMCA) team to host an inclusive and welcoming Social Networking Group for newcomers and community members.
Past events have included tailored workshops with groups such as the Nutrition Society at Acadia University, who were looking to have a HR Professional who was familiar with nutrition-relevant resumes speak to them, as well as a group of international students who wanted to learn about the differences between a typical Canadian resume compared to other countries.
The Valley Connector Program retains new and local talent, engages employers, and builds community across the region.