Member name: Regional District of Central Okanagan
Serving area: Kelowna
Address:: 1450 KLO Road
Kelowna, BC V1W 3Z4
Primary contact:
Myrna Stark Leader
(306) 536-5691
connector@investkelowna.com
Central Okanagan Industry Sector Profile
Find more information on the Connector Program.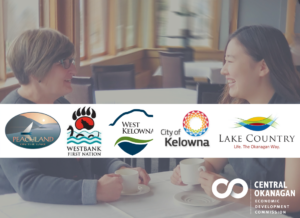 In the Central Okanagan, the Connector Program is helping people build new, important and valuable local networks. Established in 2018, the program began as an additional component of the Central Okanagan Economic Development Commission's (COEDC) goal of addressing the challenge of retaining and attracting younger professionals and newcomers.
Ten years prior, recognizing that labour shortages were going to grow, the COEDC launched the Okanagan Young Professionals (OYP) Collective. The collective curates information and resources, organizes events and connects young people with all the opportunities in the community. It was designed to engage and lessen people's desire to leave for larger centres or for lamenting, "There's nothing to do here," when in fact, it's all here, if one knows where to look.
OYP continues to be successful at fostering great personal networking.
Then, to add to it, in 2018, COEDC launched its Connector Program. It offers post-secondary students, recent graduates and newcomers (trailing partners, immigrants, relocated) the chance to network with the goal of finding local employment because similar to many communities, it pays to know people. Although the area's population is growing rapidly, there's still a small city feel where job opportunities may even be created for the right person.
The Connector Program broadens a job seeker's network through one-on-one meetings with established, well-networked, volunteer business leaders in the community. While the program doesn't promise a job, having more people know who you are and what you are looking for as employment is always beneficial, especially in the fastest growing metropolitan region in Canada according to the 2021 census.
"Building new connections is key for anyone in a new community. We've seen community leaders step up to help others and how even one introduction can prove so valuable for a Connectee, helping them settle more successfully and even get work," says program coordinator Myrna Stark Leader, who was herself a Connectee when she relocated to Kelowna.
The COEDC serves two unincorporated electoral areas of Central Okanagan East and Central Okanagan West, along with the cities of Kelowna and West Kelowna, the Districts of Lake Country and Peachland, as well as the Southeast Kelowna District. This is the traditional ancestral, unceded territory of, and that has been in the care of the Syilx Okanagan Nation for time immemorial. More information on the program can be found at https://www.investkelowna.com/how-we-help/young-professionals/connector/ including the Connectee application.